Friday, May 6th
Army Pressed to Fix Dilapidated Base Housing by Senators (Military.com) – The Army must put more money and effort into repairing poorly maintained and substandard base housing for military service members and their families, U.S. senators demanded Thursday, amid persistent reports that mold and other issues threaten troops' health.
This Federal Program Now Makes Many Active-Duty, Vets and Survivors Eligible for Free or Discounted Internet (Military.com) – An updated program from the federal government offers free or discounted internet to many Americans, including many active duty families, veterans and their survivors.
VA supports parents and expecting mothers across America (VAntage Point) – Whether you are a mom, want to be a mom, or are about to become a mom, VA supports you on Mother's Day and every day. No matter where you are in your journey, we provide health care every step of the way to and through motherhood.
Veterans unemployment under 3% for second consecutive month (Military Times) – Veterans unemployment remained below 3% for the second consecutive month in April, offering more evidence that the American job market is nearing full recovery from the two-year coronavirus pandemic.
Thursday, May 5th
How to check in with your smartphone for some VA appointments (Department of Veterans Affairs) – At some VA health care facilities, you can now check in for appointments with your smartphone. More facilities will offer this option in the future. You can still always check in for an appointment with a staff member at all facilities. Read this page to learn how to check in with your smartphone when this option is available.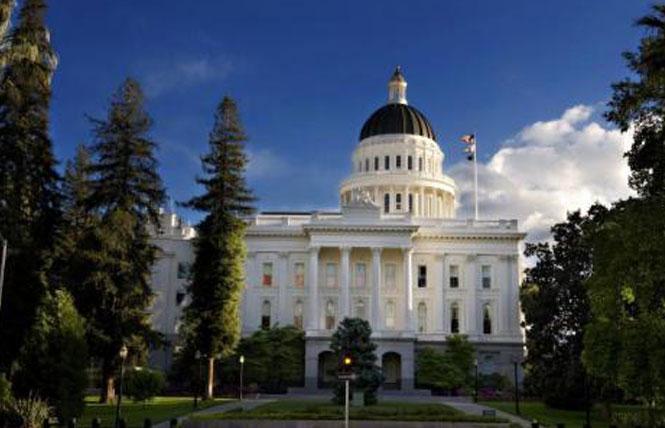 🌈Millions sought from CA, SF for sexual health services (Bay Area Reporter) – With budget negotiations set to heat up in the coming weeks, advocates for sexual health services are seeking millions of dollars from California and San Francisco officials this spring. Their demands come as both the city and state are currently flush with cash as the economy continues to improve as the COVID pandemic ebbs.
🌈Judge who overturned California's Prop. 8 blasts draft Roe v. Wade opinion: 'It makes the justices look like politicians' (San Francisco Chronicle) – Retired Chief U.S. District Judge Vaughn Walker has harsh words to describe the Supreme Court's leaked draft opinion that would overturn Roe v. Wade: "It's just not a very impressive piece of work."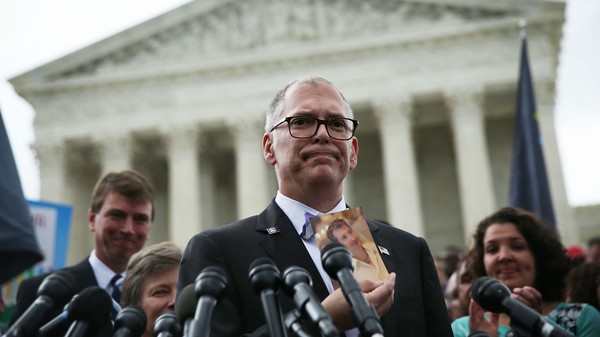 🌈The Repeal of Roe v. Wade Is a Direct Threat to Gay Marriage (Vice) – Marriage equality plaintiff Jim Obergefell tells VICE that LGBTQ rights could be next if the Supreme Court repeals Roe.
Thousands of Smartphones Purchased by VA Went Unused (Military.com) – The U.S. Department of Veterans Affairs wasted nearly $2 million when most of the smartphones bought during the pandemic for homeless veterans went unused, according to an inspector general's report.
Air Force to end preferred basing for enlisted as it changes how airmen find new jobs (militarytimes.com) (Military Times) – The Air Force this month will suspend its 4-year-old "base of preference" program for airmen who are on at least their second enlistment contract, saying it fails to send most applicants to the installations they want.
🌈USDA Promotes Program Access, Combats Discrimination Against LGBTQI+ Community (USDA/Food & Nutrition Service) – The U.S. Department of Agriculture's (USDA) Food and Nutrition Service (FNS) announced today that it will interpret the prohibition on discrimination based on sex found in Title IX of the Education Amendments of 1972, and in the Food and Nutrition Act of 2008, as amended, Supplemental Nutrition Assistance Program (SNAP), formerly the Food Stamp Program (7 USC § 2011 et seq.), to include discrimination based on sexual orientation and gender identity. Under the leadership of the Biden-Harris Administration, USDA and FNS are issuing this interpretation to help ensure its programs are open, accessible and help promote food and nutrition security, regardless of demographics.
🌈How the reversal of Roe v. Wade could impact the transgender community (NPR) – Activists and supporters of the LGBTQ community say any decision to overturn Roe v. Wade could have significant consequences on vulnerable groups if privacy-related rights like access to contraception or gender-affirming care are threatened.
After Roe: 9 legal experts on what rights the Supreme Court might target next (Vox) – Does Justice Alito's draft opinion hint at future rollbacks on marriage equality, birth control, and other issues?
VBA expands automated claims system (The American Legion) – The Veterans Benefits Administration (VBA) has expanded its pilot program focusing on automated processes using certain medical data. The program being run by the newly created Office of Automated Benefit Delivery was launched in December 2021 and is designed to eliminate unnecessary examinations, streamline workflows and reduce manual components of the claims process.
Predicting Homelessness Among U.S. Army Soldiers No Longer on Active Duty (American Journal of Preventive Medicine) – The ability to predict and prevent homelessness has been an elusive goal. The purpose of this study was to develop a prediction model that identified U.S. Army soldiers at high risk of becoming homeless after transitioning to civilian life based on information available before the time of this transition.
Wednesday, May 4th
🌈'It's already having an impact': LGBTQ people fear abortion rights reversal (NBC News) – Some LGBTQ people fear the reversal of abortion rights protections would have far-reaching impacts — both on their health and other rights such as marriage equality.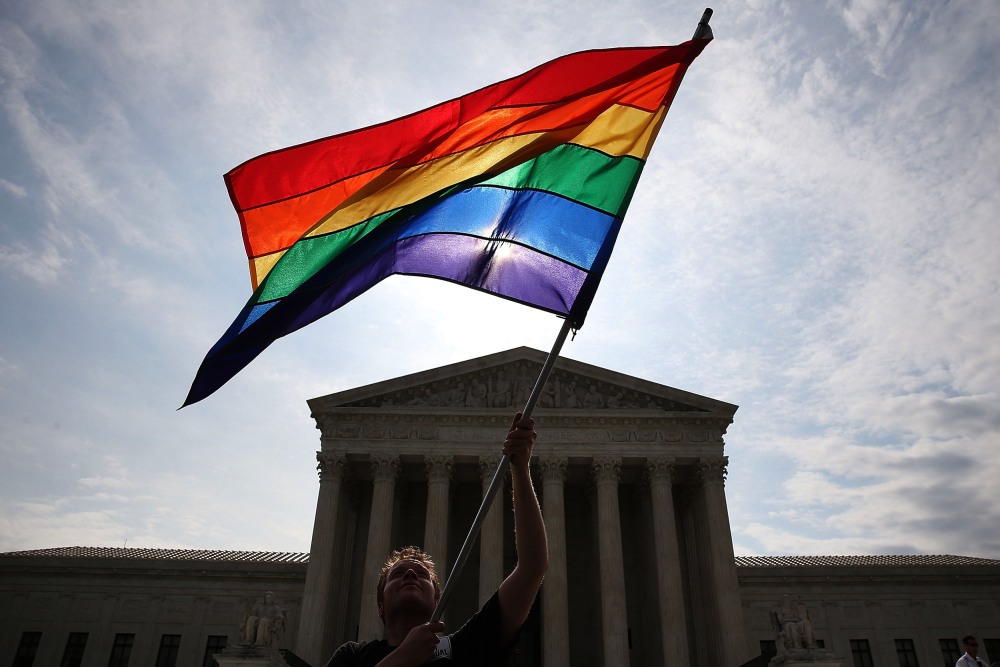 VA hired 59,000 employees this year, but still struggles with workforce shortages (Federal News Network) – The Department of Veterans Affairs hired thousands of health care employees through a streamlined hiring process since the start of the COVID-19 pandemic. The agency, however, is now limited to using the ongoing hiring authority for a small subsection of its hires, and is calling on Congress to make some of these hiring flexibilities permanent.
COVID-19 and Veteran's welfare: Veterans Resource Center moves into new facility (Sac City Express) – City College's Veterans Resource Center moved into a new facility on campus this semester, allowing it to expand its services and better help student veterans.
🌈Roe leak stokes fears that LGBTQ rights are now at heightened risk (Washington Blade) – Fears that same-sex marriage and other LGBTQ rights could be on the chopping block are at a new high after a leaked draft opinion from the U.S. Supreme Court that would explicitly overturn precedent in Roe. v. Wade, although the degree of perceived danger differs among legal observers.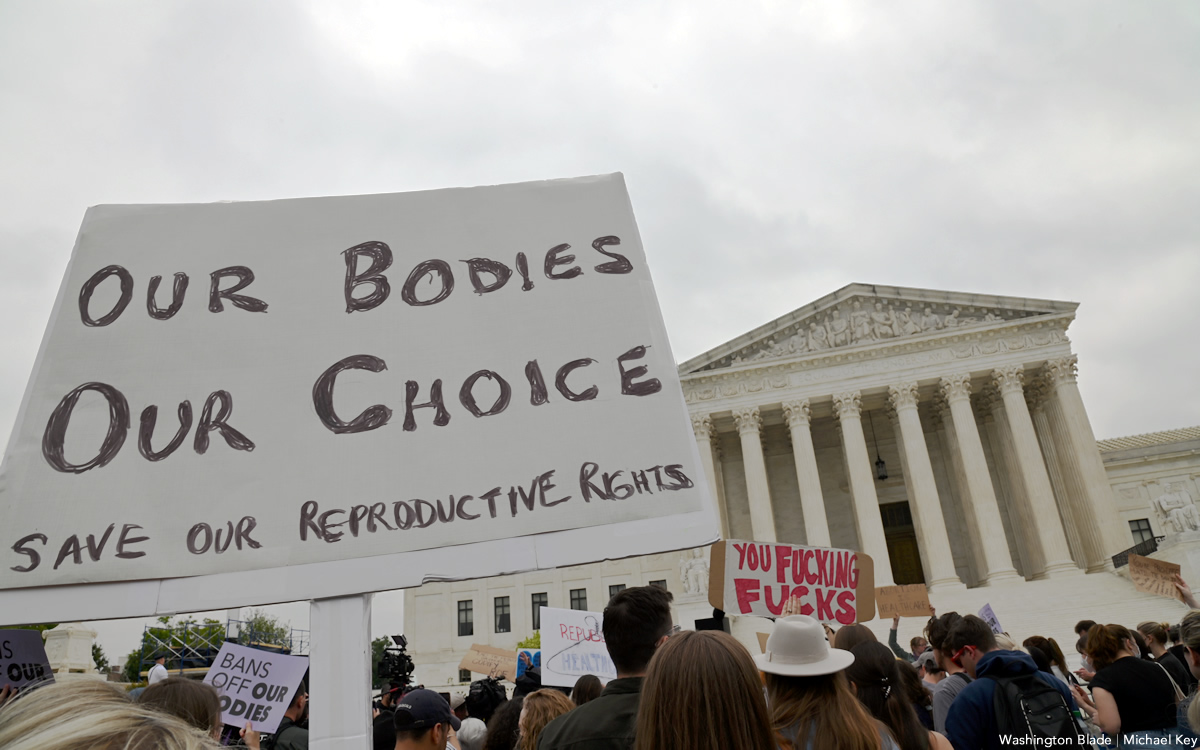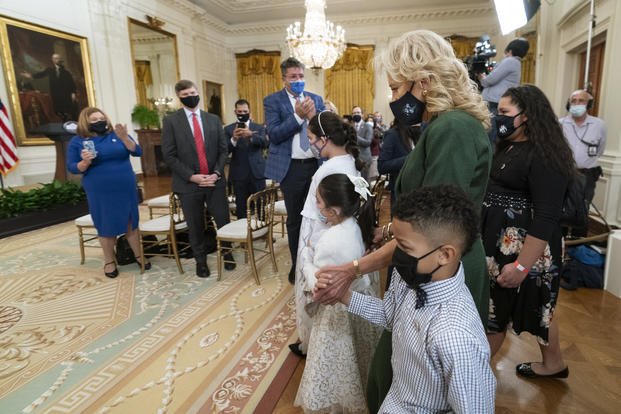 VA Disqualifies Vets from Caregiver Program Despite Promised Pause amid Review (Military.com) – VA officials announced March 22 that the department would halt dismissals from the program until they could review changes made to eligibility criteria in 2020. The pause resulted from an outcry over what appeared to be an inordinate number of discharges from the initiative, known as the Program of Comprehensive Assistance for Family Caregivers.
Audit Finds Waste in VA Purchases of Mobile Devices for Veterans (FEDweek) – An inspector general audit has identified waste in a program designed to provide homeless veterans with mobile devices they could use for telehealth – as many of the devices sat for months in storage as their data plans expired.
VA's caregiver review nearly complete, but still no timeline for future program changes (Military Times) – Veterans Affairs officials said they are nearly finished with their review of families receiving caregiver stipends, but still do not have any timeline for when new eligibility criteria for the program will be unveiled.
VA Ramps Up Osseintegration Program for Amputee Veterans (Amplitude Magazine) – In January 2022, the VA began offering OI to veterans with above-knee amputations. Osseointegration surgery and rehabilitation care is now available at several VA Amputation System of Care specialty locations across the country.
Join VA and the White House today for a cancer cabinet community conversation (VAntage Point) – Today, VA health leaders, along with representatives from private and public health care organizations, will host a Cancer Cabinet Community Conversation as part of the White House Office of Science and Technology Policy's Cancer Moonshot Initiative. VA, one of several government organizations to hold a virtual roundtable that day, will focus on the agency's lung precision oncology program to advance cancer treatment.
Appeals: Informal conference offers clarity, feedback in higher-level decision reviews (VAntage Point) – Veterans seeking a higher-level review (HLR) of a benefits claim decision have a powerful tool to communicate directly with a higher-level reviewer. It's called an informal conference.
Tuesday, May 3rd
New CalVet System Streamlines Prescriptions (Techwire) – The California Department of Veterans Affairs' e-Prescribe functionality is the first module of a larger modernization initiative set for a phased rollout later this year.
Draft Roe v. Wade ruling sends panic through LGBTQ community: 'They're coming for us next' (San Francisco Chronicle) – Following the likely overturn of Roe v. Wade, many question whether rulings protecting same-sex marriage and consensual sexual acts could be targeted next.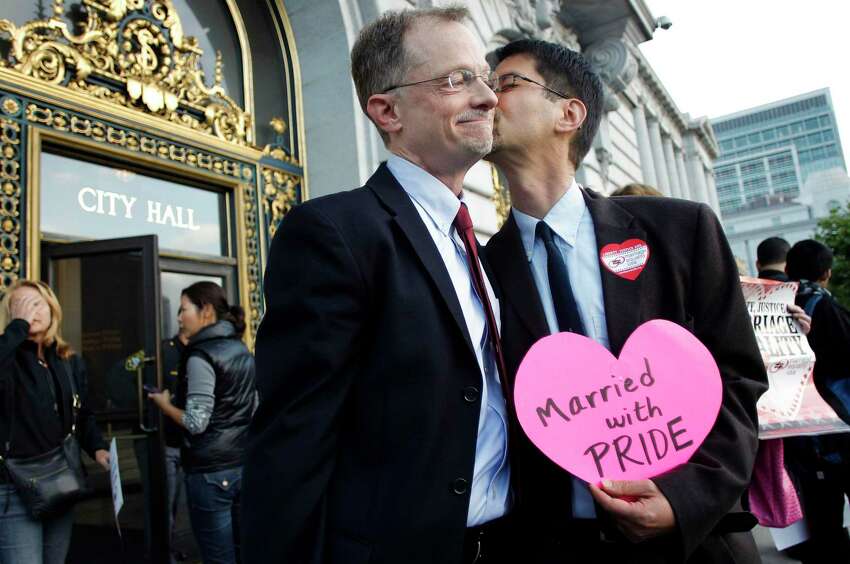 What Overturning Roe v. Wade Could Mean for Marriage Equality (The Advocate) – Legal principles tie the two together, causing LGBTQ+ rights advocates to question if same-sex marriage might be an eventual target if Roe v. Wade is indeed overturned.
As a veteran that went to Ukraine, here's what I saw (Military Times) – As someone who dreamt of growing up to be a journalist and spent their childhood watching their parents deploy to Africa and the Middle East and work with special forces at home in Virginia, being a war correspondent has been my goal for as long as I can remember. Adding to that, I also served for five years in the Marine Corps as a Middle Eastern Cryptologic Linguist, deploying once with the 15th Marine Expeditionary Unit in 2017.
Vets at schools with unusual calendars may be losing out on GI Bill money (Military Times) – Students attending classes at colleges with non-traditional semesters could lose out on thousands of dollars in GI Bill payments without fixes to how Veterans Affairs processes their education benefits, the department's inspector general cautioned on Tuesday.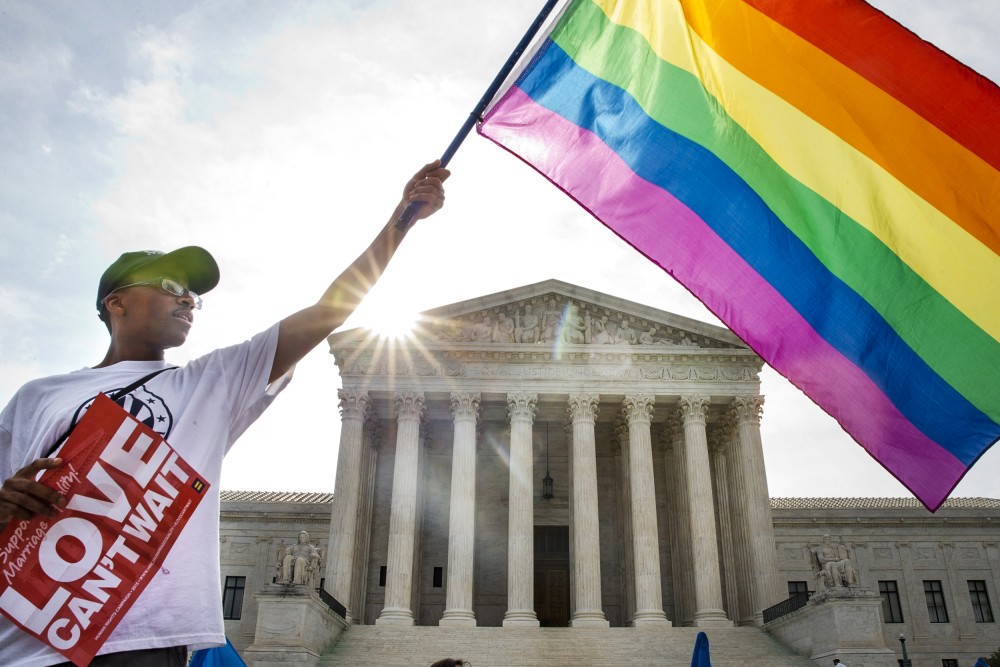 🌈As high court signals Roe v. Wade reversal, states eye same-sex marriage protections (NBC News) – Some state lawmakers have taken steps in recent weeks to protect same-sex marriage in the event the high court reverses its landmark 2015 decision.
🌈'Human Rights Crisis': Legal Experts Say Bombshell SCOTUS Abortion Opinion Will Be 'Foundation for Overturning LGBT Rights' (The New Civil Rights Movement) – Legal experts are responding to the bombshell news from Politico, which reports the U.S. Supreme Court has voted to fully overturn Roe v. Wade, the landmark 1973 ruling that found a right to abortion in the U.S. Constitution. The Court has not released its opinion.
🌈LGBTQ Victory Fund Statement on Roe v. Wade (Victory Fund) – Today LGBTQ Victory Fund President & CEO Mayor Annise Parker released a statement on Roe v. Wade.
'Space Force' Is Now Official to the VA, but Not Everyone Is on the Same Page (Military.com) – The Department of Veterans Affairs has officially recognized the Space Force as a branch of the military, nearly 2½ years after the service was established.
What you should know about advance care planning (VAntage Point) – Different people want different things when it comes to their health care. Advance care planning ensures that your loved ones and your health care team know what's important to you and what your preferences are for treatment now and treatment in the future.
Navy Federal Releases Spotlight on VA Loans Report, Unveiling Misconceptions and Myths About VA Loans (Business Wire) – Navy Federal Credit Union today released its first-ever Spotlight on VA Loans report —a comprehensive look at servicemembers' understanding of, and opinions about, VA home loans and how they use them. VA loans are designed to make the dream of homeownership more attainable for military families, but the report revealed widespread misconceptions about these mortgages, which often prevent servicemembers and their families from taking full advantage of their hard-earned benefits.
VA secretary urges EHR rollout to continue, but 'very concerned' about system outages (Federal News Network) – The Department of Veterans Affairs' new Electronic Health Record (EHR) is now running at a third location, although lawmakers remain concerned about future rollouts.
Funeral Homes Are Looking to Veterans to Care for the Living (Military.com) – As the old saying goes, the only two constants in life are death and taxes. The government will ensure taxes keep being collected, no doubt. Caring for the dead, however, is left to the private sector — a sector that is running out of skilled workers.
Monday, May 2nd
Supreme Court has voted to overturn abortion rights, draft opinion shows (Politico) – The Supreme Court has voted to strike down the landmark Roe v. Wade decision, according to an initial draft majority opinion written by Justice Samuel Alito circulated inside the court and obtained by POLITICO.
VA Downplays Its Role at the Border Amid Backlash, But Defends Potential Deployments (Government Executive) – The Veterans Affairs Department has no immediate plans to send personnel to the U.S.-Mexico border in anticipation of an uptick of migrants arriving there, though it is defending its potential role amid backlash from Republican lawmakers.
Veterans eligible for discounts on travel, hotel rates (VAntage Point) – From May 23-30, 2022, AmericanForcesTravel.com is offering discounted travel bookings, where eligible Veterans will find deep discounts on hotel rates in honor of Memorial Day.
🌈Amazon will offer $4,000 per year to US employees who need to travel to different states for medical procedures, including abortion and transgender care (Yahoo! News) – Amazon will cover up to $4,000 per year in travel costs for US employees seeking non-life threatening medical treatments, including elective abortion.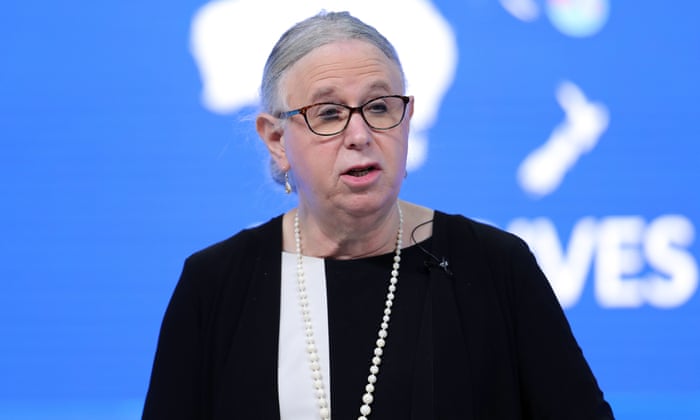 🌈America's top-ranked trans official condemns attacks on LGBTQ+ youth (The Guardian) – Rachel Levine says LGBTQ Americans killing themselves 'at a rate that should shock our conscience'
Non-white Americans at higher risk for dementia, veterans study shows (Seniors Matter) – The new study, published earlier this month in the Journal of the American Medical Association, showed the risk of dementia was almost twice as high for black and Hispanic veterans as it was for white veterans. The study tracked the outcomes of almost two million Americans receiving care from the Veterans Health Administration over a decade, with about 13% of the study's participants diagnosed with dementia.
🌈Study shows gender-affirming care improves mental health (ABC 7 Denver) – According to a report from the CDC, more than one-third of transgender high school students attempt suicide in a given year. A separate report published on JAMA Network shows that gender-affirming care improves mental health outcomes in transgender and nonbinary youths. Multiple doctors are trying to educate the public to fully understand what gender-affirming care is, and its impact on mental wellness.
VA looks to fill key medical posts, starting with the department's top health care job (Military Times) – The Department of Veterans Affairs may finally fill its top health care post later this month, which could lead to hiring even more doctors and nurses in the months to come.
For Military Appreciation Month, Eyemart Express Extends Special Offers to Military Personnel, Veterans, and Their Families (PR Newswire) – May is Military Appreciation Month, a time to honor veterans, uniformed service members, and their families. To mark the occasion, national optical retailer Eyemart Express is offering exclusive 20% discounts to the men and women who serve our country. The offer extends to veterans and military families.
VA's National Oncology Program: Providing Equitable Cancer Care for Veterans (VAntage Point) – What is health equity, and what does equitable cancer care mean for Veterans at VA?
How Veterans Can Get Free Truck Driver Training and Commercial Driving License (Military.com) – Hiring Our Heroes, an initiative of the U.S. Chamber of Commerce Foundation, is stepping in to help put U.S. military veterans in those trucks with its Drive for 500 campaign.
🌈Anti-LGBTQ laws inspire many LGBTQ people to seek public office (NPR) – The avalanche of anti-LGBTQ laws before state legislatures this year is inspiring LGBTQ candidates to seek office. This is even happening in smaller cities and rural parts of the U.S.