🌈LGBTQ+ News
12 May 2022
How loneliness can be debilitating for LGBTQ+ folk (Pink News) – For many, loneliness is a simply reminder of the things we're missing out on. But when experienced for too long, it becomes a quiet, aching feeling of being alone against your will.
Why we need to start talking about how we're truly feeling (Gay Times) – Mental health can seem like a daunting subject, especially for the LGBTQ+ community. We spoke to LGBTQ+ people to get an insight into how mental health impacts the community and how we can constructively tackle the taboos of the subject.
'SNL' star Bowen Yang says LGBTQ bars and restaurants are 'so vital and have to be protected' (NBC Today) – Yang is hoping to shine a light on the alarming trend of permanent closures of LGBTQ bars and restaurants across the country.
Celebrate LGBTQ Pride Month With Gear From Brands That Give Back (MSN) – Here are companies that have Pride-themed gear, including sneakers, apparel, accessories and more, with charitable components that support causes that impact LGBTQ people. Check back for updates.
Sex and Gender: What's the Difference? (Psych Central) – The terms "sex and gender'' are often used interchangeably, but they mean different things. Here's why the difference matters.
11 May 2022
Prepping For Pride 2022 & Beyond: Engaging A Booming LGBTQ+ Consumer Landscape (Forbes) – LGBTQ+ Pride month is a big deal for brands, possibly even a deal-breaker considering the groundswell of LGBTQ+ consumers. According to GAY TIMES analysis (using a combination IPSOS and UN Population data) it's a group predicted to hit 1 billion globally by 2050, with Gallup's 2022 study revealing 7.1% of Americans already identify as such (57% of whom classify themselves as bisexual). Importantly, roughly 21% of all adult Gen Z Americans now identify as LGBTQ+, indicating a distinct shift towards a post-heteronormative society, or certainly more genreless future generations.
10 May 2022
Grindr Announces Plans to Go Public With Multi-Billion Valuation (The Advocate) – Grindr is going public. The gay dating and hookup app announced it has entered into an agreement with Tiga Acquisition Corp. (TAC), a special purpose acquisition company. The two companies have agreed to merge under the name Grindr, Inc. in a deal that has valued the app at $2.1 billion.
Target Pulls 'Silence = Death' T-Shirt After ACT UP NY Calls Store Out (The Advocate) – Target and a sales partner, the Phluid Project, have at least temporarily ceased selling a T-shirt with the famed ACT UP "Silence = Death" message after complaints from ACT UP New York.
Skittles Go Gray (Again) With Pride Packs Designed by LGBTQ+ Artists (Out) – This year, though, Skittles' annual Pride packs will also feature colorful art by queer artists, with proceeds going to GLAAD.
09 May 2022
SPARTA announces legislative agenda & re-elects Bree Fram as president (Los Angeles Blade) – SPARTA, the nation's leading transgender military service organization, announced its legislative priorities for 2022 on Monday. SPARTA and other advocacy organizations have long sought the codification of the opportunity to serve in the military regardless of gender identity or any other category that doesn't have any bearing on an individual's ability to serve.
LGBTQ+ Soldiers Found a Way to Serve in the Military Long Before Public Acceptance was Achieved (SOFREP) – Throughout military history, long before the "LGBTQ+" was even a thing, members of the community were either banned from joining the service or hidden away. Soldiers, especially men, were painted as tough, brave, and everything masculine, and there was no room for anything that was not deemed "honorable." Regardless, there were LGTBQ soldiers who braved the wars and went to protect their nations even when they were hidden, dismissed, and just plainly discriminated against. Most of them were either forced to hide their true identities or at least not talk about it with policies like "Don't Ask, Don't Tell."
After Roe: Here's the GOP Plan Kill to Marriage Equality, LGBTQ Rights (The Advocate) – Barring some highly improbable miracle, marriage equality will probably not exist nationally by 2024 — possibly 2025 at the latest.
An LGBTQ+ Guide to First-Time Homebuying (Out) – A lesbian realtor offers advice to rainbow families looking to achieve the American dream.
Military/Veteran News
12 May 2022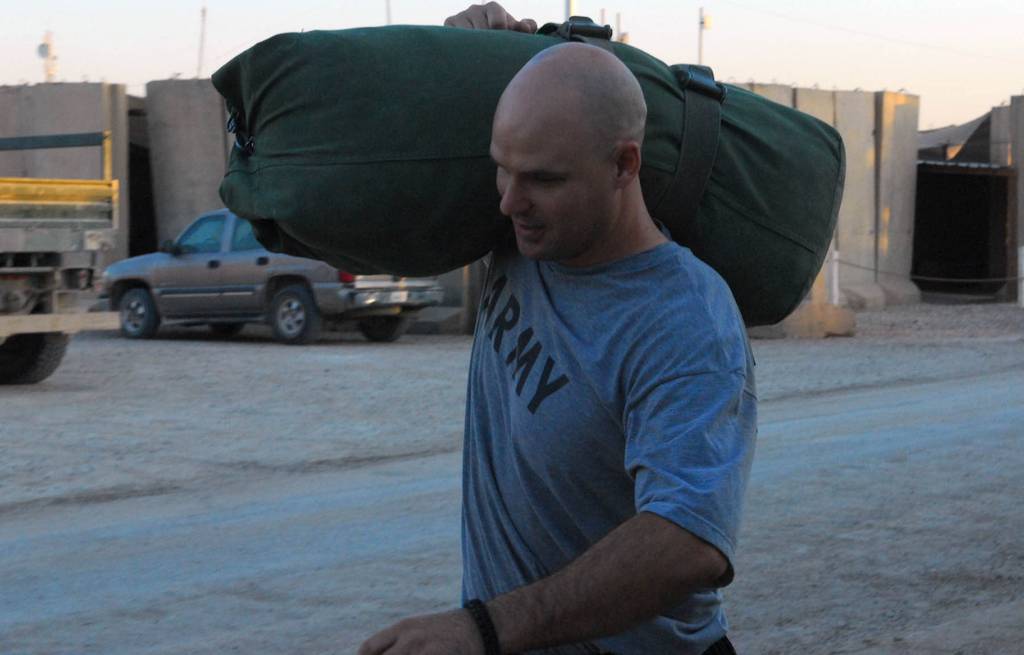 23 things veterans may carry for life (Military Times) – In the back of every veteran's closet, you're likely to find some old uniforms, dusty caps, a stack of medical, training, and discharge records… maybe a few ribbons or medals. But these are just a few of the typical things that separated or retired service members keep with them. Other things, they're stuck with forever.
Army drafting abortion policy in case Roe v. Wade is overturned (Military Times) – Army officials are drafting a policy "to ensure we take care of our soldiers" seeking abortions, in case the Supreme Court overturns Roe v. Wade, according to the sergeant major of the Army.
The changing face of the VFW (Military Times) – Your local VFW is no longer the hall that hosted Grampa's bingo night. Instead, it's a hub of Post-9/11 and Iraq and Afghanistan veterans supporting the same mission the VFW has supported since its inception in 1899: veteran transition, support, and kinship.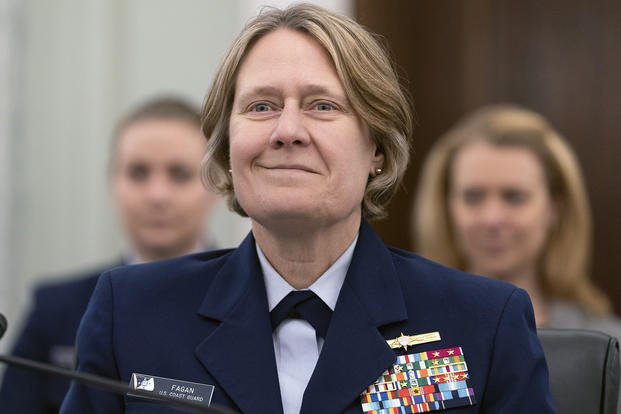 Coast Guard Admiral Becomes First Woman to Lead a US Military Branch (Military.com) – The Senate voted unanimously late Wednesday to confirm Adm. Linda Fagan as the next commandant of the U.S. Coast Guard, the first woman ever to lead a military service.
VA study: Screening for thoughts of suicide can identify missed chances to save lives (VAntage Point) – In the United States, one of every 10 adults who dies by suicide is seen in an emergency department within two months before their death. Despite national guidelines for suicide screening, risk assessment and follow-up care, including those from the Joint Commission and Emergency Nurses Association, suicidal thoughts and behavior continue to go undetected in emergency departments, leading to gaps in care.
Greece to extend base access deal with US military (Military Times) – Greece is extending a bilateral military agreement with the United States for five years, with officials from the country's center-right government arguing that enhanced alliances within NATO will help stabilize the region rattled by Russia's war in Ukraine and tension in the eastern Mediterranean.
Culture Shift Needed to Combat Patient Safety Failures at VA, Watchdog Says (Military.com) – The murder of seven veterans at a West Virginia Department of Veterans Affairs hospital and thousands of missed diagnoses by a pathologist who was drunk on the job at a Fayetteville, Arkansas, facility are signs that the Veterans Health Administration, or VHA, has significant leadership and cultural problems, according to the VA's top watchdog.
Study shows two career assessment screenings effective for veterans, civilians (Phys.org) – While many services are in place to help address the physical and mental obstacles, little research has been performed on measures designed to help in the educational and career paths. A new study from the University of Kansas has found two measures designed to help civilian students are also effective for veterans.
11 May 2022
White House Plans to Blunt Medical Debts for Veterans and Home Borrowers (Bloomberg) – Vice President Kamala Harris announced new steps designed to reduce the cost of federal home loans for Americans saddled with medical debt and make it easier for veterans to have health care bills forgiven during an event Monday at the White House.
10 May 2022
Bill would mandate honorable discharge for all troops who refuse COVID vaccine mandate (Military Times) – Defense officials would be required to grant honorable dismissals to nearly all troops who refuse the COVID-19 vaccine and grant waivers to troops with "natural immunity" to the virus under new legislation introduced by Republican senators on Tuesday.
Preventing stroke: Many are at risk and don't know it (VAntage Point) – Heart disease and stroke are an epidemic in the U.S. Many don't realize that they are at high risk for heart attack or stroke. The good news is that many of the major risk factors for these problems can be prevented or controlled. Getting your blood pressure and cholesterol checked are important first steps to reduce your risk.
Federal Veteran Unemployment Stats 'Inaccurate,' New Report Says (Military.com) – With the United States experiencing historically low unemployment rates, along with an equally historic labor shortage, it would be natural to draw the conclusion that veteran unemployment is a thing of the past. The Call of Duty Endowment, the world's largest private funder of veteran employment, says nothing could be further from the truth.
Study investigates brain connectivity patterns at rest in veterans with chronic pain and trauma (News-Medical.net) – A new study is the first to investigate brain connectivity patterns at rest in veterans with both chronic pain and trauma, finding three unique brain subtypes potentially indicating high, medium, and low susceptibility to pain and trauma symptoms. The findings provide an objective measurement of pain and trauma susceptibility and could pave the way for personalized treatments and new therapies based on neural connectivity patterns.
09 May 2022
Errors in DoD's new electronic health care records system raise concerns among providers (Military Times) – Information about patients' health care isn't always accurate or complete in the Defense Department's new electronic records system, according to a survey of defense health care providers conducted by the Inspector General's Office.
Air Force Will End Program That Allowed Some Airmen to Choose Their Next Duty Station (Military.com) – The Air Force's "base of preference program" will end next month, delivering a blow to career enlisted airmen and their families who were trying to plan where they would be stationed stateside.
Racial disparities observed in prostate cancer incidence, outcomes among veterans (Healio News) – Black veterans had a nearly twofold higher incidence of both localized prostate cancer and de novo metastatic disease compared with white veterans, according to a nationwide, retrospective cohort study published in JAMA Network Open.
5 Steps to Start You Down the Path to Meaningful Work After the Military (Military.com) – "What I'm really looking for is meaningful work," one of my veteran clients told me. "When I say this to people, I've been told that whatever I do, it will never be as meaningful as the military. I'm OK with that. But how do you find meaningful work after the military?"