Facts & Numbers
Women make up about 10% of the Veteran population in the United States; in 2019, there were an estimated 1.64 million Women Vets.
In the State of California, there are nearly 163,000 Women Veterans.
In 2015, women made up nearly 12.3% of Veterans of Operations ENDURING FREEDOM, IRAQI FREEDOM, and NEW DAWN (OEF/OIF/OND).
---
Do you know your Veteran status? Do you have a Veteran ID card? Should you receive any benefits from the VA, like the G.I. Bill? Do you know what health care benefits you have earned? The Women Veterans Call Center will have answers.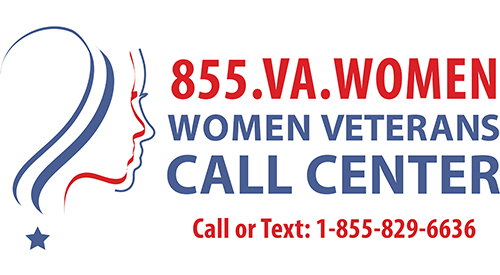 ---
Local & State Resources
California Department of Veterans Affairs: Women Veterans
California is home to 185,269 women veterans. With California's women leading the nation in military service, it is imperative to acknowledge and address the needs of this growing demographic.
Dignity Health Women's Health Services | COVID-19
Addressing a woman's individual health care needs is a commitment we make by providing comprehensive care and support at all stages of her life. This includes not just gynecology and maternity care, but also aspects of cardiology and oncology that are unique to women.
Kaiser Permanente Women's Health: Obstetrics/Gynecology | COVID-19
Planned Parenthood Mar Monte | COVID-19
Sacramento Area Health Centers
Planned Parenthood Mar Monte has 7 convenient locations in the Sacramento metro area and operates more than 30 health centers throughout mid-California and Northern Nevada, serving over 220,000 patients each year.
☎ Phone: 1-877-855-7526
Sacramento Women's Health
2277 Fair Oaks Boulevard, Suite 255, Sacramento, CA 95825
Providing obstetric and gynecological services for three generations of women.
☎ Phone: (916) 927-3178
Sutter Health Gynecology & Women's Health Services | COVID-19
Women have unique and important healthcare needs. Whether you're having a baby, just getting a checkup or needing to address a particular issue, women's health specialists in the Sutter Health network provide sensitive, professional services to keep you healthy and meet your needs.
WellSpace Health Women's Health Center
7601 Hospital Drive, Suite 220, Sacramento, CA
WellSpace Health has provided care and support to individuals and families throughout the Sacramento region since 1953. Their focus has always been to offer a full range of quality medical care, dental care for children and adolescents, mental health and behavioral health services to underserved populations.
☎ Phone: (916) 737-5555
---
VA & FEDERAL Resources
VA Center for Women Veterans
Monitors and coordinates VA's administration of health care and benefits services, and programs for women Veterans. Serve as an advocate for a cultural transformation (both within VA and in the general public) in recognizing the service and contributions of women Veterans and women in the military. Raises awareness of the responsibility to treat women Veterans with dignity and respect.
VA Northern California Health Care System
Women's Health

Women Veterans primary care clinics
Maternity care coordination and services
Mammography (Martinez, McClellan, Redding, Sacramento VAMC)
Psychological services
Gynecology services
Social services
Genetic testing

Lesbian, Gay, Bisexual & Transgender Veteran Care
The Department of Veterans Affairs (VHA) is committed to providing quality care to all Veterans including lesbian, gay, bisexual and transgender (LGBT) Veterans. Excellent care has no boundaries.
U.S. Department of Health & Human Services Office on Women's Health
The U.S. Department of Health and Human Services' (HHS) Office on Women's Health (OWH) was established in 1991 to improve the health of U.S. women by advancing and coordinating a comprehensive women's health agenda. During the early 1990s, OWH focused on developing women's health as a specialized issue for government action and attention alongside efforts by partner organizations. These issues included research, health care prevention and service delivery, public and health care professional education, and career advancement for women in health and scientific careers. Thanks to OWH's leadership, women's health is now firmly rooted in the national health landscape and many great achievements have been made in women's health. Today, OWH focuses on emerging women's health priorities to meet the needs of women and girls. Working collaboratively with federal agencies and partners, OWH supports a variety of campaigns, programs, and policies around health disparities, violence against women, HIV and AIDS, trauma-informed care, health across the lifespan, and the provision of health care.
☎ OWH Helpline: 1-800-994-9662
Monday – Friday
9:00 a.m. – 6:00 p.m. EST / 6:00 a.m. – 3:00 PST
---
Additional Resources
American Women Veterans
American Women Veterans is the nation's preeminent, non-partisan, non-profit organization dedicated to serving, honoring, and empowering military women, veterans, and their families. AWV welcomes veterans and supporters from all eras and branches of service.
Department of Labor // Veterans' Employment & Training Service
Prepares America's veterans, service members and their spouses, for meaningful careers, provides them with employment resources and expertise, protect their employment rights and promotes their employment opportunities.
Department of Labor // Veterans' Employment & Training Service
Prepares America's veterans, service members and their spouses, for meaningful careers, provides them with employment resources and expertise, protect their employment rights and promotes their employment opportunities.
Women Veterans
The mission of the DOL VETS Women Veteran Program is to make statistical analyses and other research easily accessible in order to inform policy decisions and the national narrative on women veterans. This webpage serves as a repository of both statistical analysis conducted by the Women Veteran Program and links to applicable external research.
Grace Under Fire
The mission of Grace After Fire is to provide the means for women Veterans to gain knowledge, insight and self-renewal.
Military Women's Memorial
The Women In Military Service For America Memorial (Women's Memorial) is the only major national memorial honoring all women who have defended America throughout history. We are proud to recognize their devoted patriotism and bravery as an integral part of our national heritage.
National Association of Black Military Women
The mission is to seek out, record, maintain and tell the history and heritage of African-American Military Women who served and are serving in the United States Armed Forces.
National Coalition for Homeless Veteran: Women Veterans
The National Coalition for Homeless Veterans (NCHV) is the leading authority on homeless veterans' issues and the only national organization solely focused on ending veteran homelessness.
National Veterans Foundation (NVF): Women Veteran Resources
The Women Veteran Resources program connects women Veterans with appropriate resources to help them transition to civilian life after leaving the military, and to provide them with resources and tools to transition to civilian life and to continue to be leaders in their communities
Service Women's Action Network (SWAN)
The Service Women's Action Network (SWAN) is the voice of women who have served or are currently serving in the military. SWAN is a member-driven network dedicated to supporting, connecting and advocating for the individual and collective needs of service women; past, present and future.
U.S. Army Women's Foundation
In 1969, a group of women Soldiers formed our Foundation to preserve and honor their service as members of the Army Women's Corps. Led by Veterans, the US Army Women's Foundation is a non-profit, volunteer organization, dedicated to promoting public interest in the US Army and honoring the service of all women who wear or have worn the US Army uniform.
U.S. Army Women's Museum
The U.S. Army Women's Museum also serves as an educational institution, providing military history training to Soldiers, veterans, and the civilian community. A variety of programs are offered at the Museum for visitors of all ages. We have active oral history, internship, and volunteer programs.
Veteran Service Organizations (VSOs) Women Vets
Women Marines Association (WMA)
The Women Marines Association was established in Denver, CO, in 1960 to ensure that our history as Marines would continue to be told and passed on to a new generation of Marines. Chapters and members across the nation work on community programs and support our military personnel, our Veterans and their communities. They reach across all areas where there is a need. WMA is a member of the National Marine Corps Council and maintains a liaison with Headquarters Marine Corps.
Women Veterans Alliance
A woman, disabled veteran owned small business, that was founded in 2015, by Melissa A. Washington a Navy Veteran who saw a need to bring women veterans together to equip, empower and encourage each other.
Women Veterans Initiative (WVI)
The WVI is a group of women, mostly veterans, who work to improve the lives and well-being of all Women Veterans through innovative programs and better access to services. We focus on Networking, Outreach, Advocacy and Wellness.
Women Vets on Point
Women Vets on Point is an independent, not-for-profit program designed and informed by women veterans for women veterans in order to address critical needs and barriers to mental health care after military service. The program brings together a team of program developers, service providers, and researchers from U.S.VETS and Education Development Center, Inc, and is generously supported by the Bob and Dolores Hope Foundation.
Women's Army Corps Veterans' Association – Army Women United (WACVA-AWU)
Those who have served honorably with the Women's Army Auxiliary Corps, The Women's Army Corps, or those who have served or are serving honorably in the United States Army, the United States Army Reserve or the Army National Guard of the United States, are eligible for membership in the Women's Army Corps Veterans' Association – Army Women United.
Women Veterans Rock
A coalition of Women Veteran Organizations & Women Advocacy Organizations engaging and empowering America's Military Women.